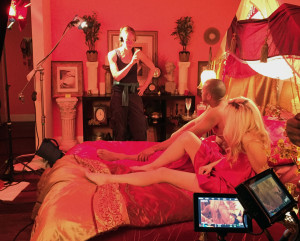 Before deciding against law school and moving to NYC where I earned an MA in Film Studies from the CUNY Graduate Center and an MFA in Filmmaking (also from the CUNY system) I juggled paralegal work with running a non-profit (La Vache Enragée Productions) in San Francisco. With LVE I produced theatre and an annual festival of short plays and silent short films accompanied by live music. I hold a B.A. in Theatre from UCLA and have done post graduate work at Central School of Speech and Drama in London and studied at Circle in the Square in New York – and am done with school for the moment.
I was a runner-up for the London Sundance/Nokia Competition with my short documentary The "Underground" Music Scene of the NYC Subways and am currently working on a feature documentary on female filmmakers, The 2nd Sex and the 7th Art, fiscally sponsored by IFP. My narrative work includes the short film Fear of Heights, screened as part of the SAG Shorts Showcase and the Katra Film Series, Through the Valley (now in development as a feature film) which screened at the Orlando Film Festival, the Chain Film Festival and for which I was nominated for Best Director at the Northeast Film Festival. I am now submitting my thesis film To Live Forever to festivals. While working on my MFA I also co-produced Roee Messinger's Drifting which recently won the Best Narrative award at City Visions.
As a director coming from an acting background I value performance and story above all else but have over the past few years gained an appreciation for the technical elements that make storytelling special in cinema. I am especially intrigued by the juxtaposition of sound with images – and hope to further explore the use of sound in future films.
Check out my vimeo page for examples of my work.